The brand is the foundation of any successful marketing campaign. Potent brand concepts drive sales.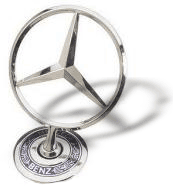 Take the Mercedes ad showing their trademark Three-Pointed Star on a classic 1950s-motif base. The headline below the image - It's Not An Ornament. It's A Belief.
Precisely defining your brand is far better than letting others do it for - or against you.
Scull Communications builds and orchestrates a powerful, evocative marketing campaign that gets you on the radar.